Your Twitter font will appear here..
---
What can Twitter Font Generator do for you:
Twitter has been around for a long time and has grown from nothing to millions of users over the years. Many people feel that Twitter is the perfect place to build an audience and share life or products with followers.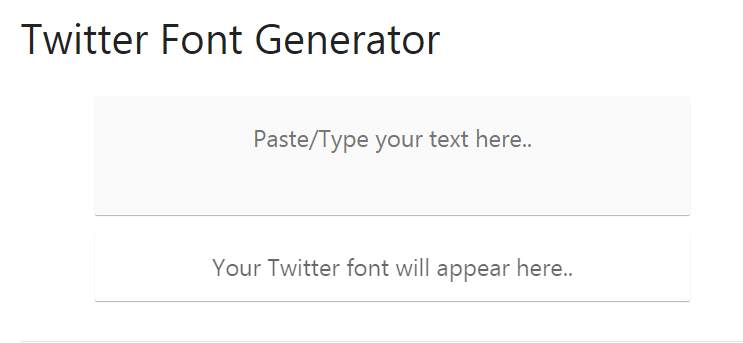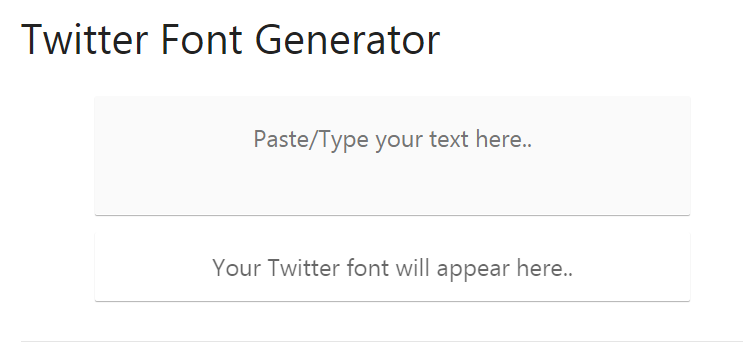 It helps you connect with your friends and fans like never before since it is an interactive social media platform and space that allows you to express your thoughts the way you want to.
A number of people use it to share their political views. Many social media personalities and businesses have been using it for interacting with their followers and customers for quite some time even before the idea of monetization or ads came into being. You may also like Superscript Text Generator.
Twitter Font Awesome icon
In order to remain engaged with their followers, people use several different techniques and ways. They also do this to increase their reach, the number of likes, and the number of followers.
You can make a lasting impression not only with your creative content, but also with the font you use. The Twitter Fonts Generator allows you to create text and fonts that are unique, fun, cool, and eye-catching.
You can use these weird fonts for twitter that were created by using the Twitter text generator to not only grab the attention of your followers but also increase the number of people that follow your page, your posts, and wish to connect with you while also adding to the influence you have.
By using these fonts on Twitter, you can make yourself stand out from other users, making you look unique and changing your entire Twitter presence.
How does Twitter Text tool work:
You can use the Twitter Fonts generator to change any text into a cool, fun looking font by typing the text in the box. Once you enter the text, a wide variety of options appears underneath.
Here you can copy and paste your text in any font you want. Although Twitter and its unique font needs inspired this tool, its use is not limited to this social media platform only.
You can use the fonts generator to create letters and texts for any social media platform or website that supports Unicode. This is what makes the Twitter font generator unique.
Moreover, this font generator for Twitter is unique in that it is compatible with Twitter and not with any other social media platform or website. Moreover, many Unicode symbols look like Latin characters or English text. Therefore, we can use these symbols to create a pseudo-alphabet. Try our Weird Text Generator.
If you see a font online that you like, such as the comic sans font, and you want to use it in your Tweets or when sending direct messages via Twitter, you find that it doesn't appear correctly because the characters are not separated. A font is actually a set of graphics.
Twitter Font Generator Copy & Paste
Because of the separate characters that the Twitter Fonts generator uses, the user is able to successfully copy and paste text wherever they wish without any issues. This is because you're actually pasting not the font itself, but the individual symbols that collectively make up the font. Convert normal text into Vaporwave Text Generator.
There is still a possibility that not all the fonts available will appear as they do in your tweets or direct messages, the reason behind this is that your device may not support these fonts and/or symbols.
You should use these symbols in your tweets instead of Twitter emoji's because they are much more expressive and help you convey the message you are trying to convey rather than the generic emoji's that everyone uses.
If the fonts and symbol options that appear in the Twitter fonts generator are not all that you are looking for, simply click on the "load more fonts" button on the font generator site to find more fun fonts and symbols that you can use.
Besides using these fonts in your Twitter bio, tweets or even writing your name on Twitter, you can also use them on other social media platforms such as Instagram, Facebook, Tumblr, etc.
To wrap it all up:
Type the text you want to convert in Twitter font
You will see fonts below
Copy any text you want to use
Paste it where you want and enjoy it
Who can use this Font Changer tool:
These fonts can be used to create any type of eye-catching content for your tweets. These fonts are a great way to make your tweets more engaging for your followers. If you are a social media personality or business operator, these fonts can really help you to stand out. You should try Tumblr Font Generator.
This Twitter font changer allows users to create a personalized touch to their posts by using these stylish and cool text fonts and symbols, creating their own unique style that people will remember.
By using these fancy and unique symbols, social media personalities and businesses alike can create their own signature style that would help people associate their text style with them, extending their fame and reaching even further.
Additionally, other Twitter name fonts users can use the tool to add color to their tweets, making them look different and unique. Such a tool will also inspire them to create unique content like never before.
In fact, the Twitter fancy text generator is a tool meant for all users since it is so easy to use and provides users with a wide range of options from which they can choose based on their own personal taste and preferences.