Your iNSTA fonts will appear here..
---
What can Instagram Text Generator do for you:
There are many people who consider Instagram to be the best place to build an audience and share your life with your followers and fan base since it is a social media platform and space that is much more interactive than Facebook or Twitter.
Many social media influencers and businesses have made Instagram their home. In order to keep their followers engaged, they make use of different ways, such as using hashtags. Insta Text App also utilizes this technique to increase their reach, number of likes, and number of followers.
You may also like: Discord Font Generator
The captions you add, the way you make them interactive with your creative content, and the font that you use, leaves a lasting impact. The Instagram Font Generator is a tool that generates fonts for Instagram that are unique, fun, and eye-catching.
You can use these fonts for Instagram to not only grab the attention of your followers, but to also increase your reach and increase the number of people who follow and like your posts. These fonts will contribute to your Instagram presence and make you look unique and different.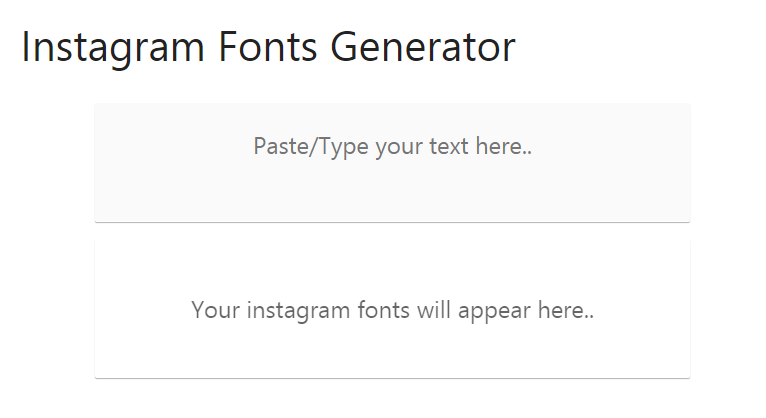 How does Instagram font Generator tool work:
At Instagram Fonts, you can simply type the text you want to change into a cool, fun font. After typing the text in the box, a wide variety of options appears underneath. From here, you can copy the text in any font you want and paste it anywhere you want.
The Instagram Font changer was created with Instagram in mind as well as the need for unique fonts and captions, but its application is not limited to Instagram as it can be used for any social media platform or many different websites that support Unicode 10.
This font generator uses Unicode symbols to generate numerous different characters, which is why it is unique to Instagram Text. Not only this, but all fonts for Instagram made available through this generator are compatible with Instagram, even if they haven't been tested with other social media platforms or websites. Make italic text with Italic Text Generator.
Due to their similarity to the latin alphabet or English text, many Unicode symbols can be used to create a pseudo-alphabet.
To wrap it all up:
Type the text you want to convert in Insta font
You will see fonts below
Copy any text you want to use
Paste it where you want and enjoy it
Copy and Past Fonts For Instagram:
In many cases, you see a font online, such as the comic sans font, and you want to use it in your Instagram captions and bio. But every time you do this, the font fails to display because the characters are not separated. Also Try Font Changer.
Copy and paste fonts for Instagram are basically a set of graphics. It is due to the separate characters that The Instagram Font generators use that enables users to successfully copy and paste the text wherever they want without any problems.
Instagram Font Generator
Because you are actually copying and pasting symbols, not the actual font itself. Not only will this improve the look of your captions, it will also add a unique touch to your Instagram bio.
There is still a possibility that some of the fonts available may not appear in your Instagram bio or captions because your device may not support these fonts, or because Instagram Text Art may not allow these fonts just yet because they don't want excessive use of certain Unicode symbols.
Instagram Text Generator Online
When you type a text, the fonts and symbols that appear are not all of the options, you can keep clicking "load more fonts" to see a larger number of fancy fonts and symbols that you can use through the Instagram fonts generator.
You can use these fonts in your Instagram bio, comment section, and captions. You can also use them on other social media platforms, such as Facebook, Twitter, Tumblr, etc.
Who can use Insta Font tool:
The Instagram font generator tool is unique and helps people create eye-catching content. The fancy and unique fonts make your captions fun and engaging for your followers. Convert normal text into Gothic Text Generator.
Whether you are a social media influencer or a business operator, these fonts will be a game changer for you. Instagram fonts help users add a personal touch to their posts by making good use of fancy fonts and symbols, thereby creating their own unique style that people will remember. Mirror Text Generator to mirrorized your text.
Instagram influencers and businesses can create their own signature style by using these fancy and unique symbols, which would help people associate their text style with them, thereby adding to their fame and reach.
Additionally, the Insta Font tool can also be used by other Instagram users to add color to their everyday Instagram posts and bios, making them look unique.
The font for Instagram generator is a simple-to-use tool that is intended for all since it provides the users with several options from which they can choose, based on their preferences and tastes.