Your mirror text will appear here..
---
Reversing a text is the process of completely reversing its words in order for them to appear in the text's mirror image. Reverse text is widely used on social media, where users use it to give their posts a unique flair. An ambulance vehicle is another example of reverse text. You may have noticed that the text displayed on the windscreen of your vehicle is reversed.
If you also want to reverse your text, fontbots.com's text reverser is the best option available on the web. With a few taps on your device, this online Reverse Text Generator enables you to reverse the direction of your text. The remainder of the magic will be performed by this online reverse text generator, and you will quickly receive the reversed text.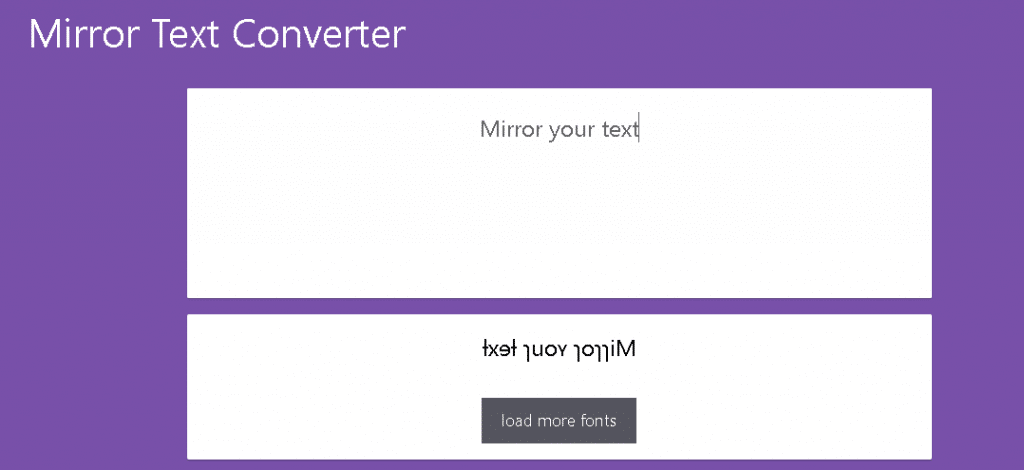 Mirror Your Text
WIth our MIrror Text Generator you can easily mirror your text and use anywhere you want. This Generator reserved your text in unicode so you can use it everywhere.
Reverse Text: A Fascinating Fact
Leonardo Da Vinci wrote backwards in a style referred to as mirror writing. Mirror writing occurs when the letters are not only reversed in order to be read backwards, but also the orientation of each letter is altered.
Mirror writing is easily deciphered when viewed in a mirror. It's similar to how the word ambulance becomes legible when viewed through the rear-view mirror of a vehicle.
You May Also Like: Aesthetic Text Generator
Da Vinci is said to have written in reverse not to conceal his written ideas from others, as there are far more effective ways for him to encode your work, but to avoid smudging his notes.
The prevalent theory at the moment is that Da Vinci discovered that writing backwards was the most efficient way to avoid smearing his notes as a left hander. Additionally, it made him appear cool, and who doesn't want to appear cool?
KEY FEATURES OF FREE REVERSE TEXT GENERATOR
There are numerous backwards text generator tools available online, but only a few of them will produce the desired result. This online reverse text utility is capable of producing the highest-quality output and should be your default choice for reversing text. The following characteristics of this online reverse text generator will undoubtedly aid you in comprehending its significance.
Instant results
You won't have to wait long periods of time for your results, as you might with other online services. Once you enter your text into this backward text generator, you will instantly see the results.
You May Also Like: Runic Translator
Free of cost
If you believe that you will have to pay to use this online word reverse facility, you are mistaken. This reverse text service is completely free and does not require a trial period.
No installation is required
The majority of online tools require users to install desktop applications on their devices in order to access free services. However, the tool available on this site is not restricted in this way, as you can use it without installing software on your device.
Compatibility with all platforms
You do not need a specific device or operating system to use this online word reverser utility. This backward text generator works flawlessly on all devices and operating systems. Italic Generator is used to convert normal text into italic text.
Data Privacy
Data security is a critical concern that people have when using any online utility. However, you no longer need to be concerned, as this online reverse text generator provides a secure means of reversing a text. After processing is complete, the data you upload to this reverse text tool will be deleted from our databases.
SOME INTERESTING USES OF Mirror Text Generator
Reverse text is being used on various platforms and for different reasons. Some of the essential uses of reversed text are as follows.
Social Media
People on social media use reversed text to make their posts attractive. Also, there are a number of social media users who use flipped text to beautify their profiles.
Old English Translator is used to translate normal english into old english.
Artistic appearance
Graphic designers mostly prefer reversed text in their work to give an artistic look to their creations. This is a great approach to gain the attention of people towards your work. Try Instagram Font Generator.
Play with friends
Social media is an excellent source of entertainment, and that's what reverse text may provide. You can share flipped text with your friends and confuse them with this guessing game.
Data security
You can use reverse text for reverse words or encoding purposes. The passwords are meant to be ambiguous and complicated, so no one can guess it. The use of reverse text as your password can be a great way to make your accounts secure and protected.