Your Facebook fonts will appear here..
---
What can Facebook Fonts Generator do for you:
Many people believe that Facebook  is the best place to build an audience because it has been around for as long as we can remember and has grown from nothing to over 2.38 billion users over the years.
The social media platform is interactive and enables you to connect with people and friends by expressing your thoughts how you want to. So you can share your life or product with your followers, friends, and fanbase like never before.
Facebook Stylish Text Generator
Social media personalities and businesses have used Facebook for this purpose long before the concept of monetization and ads became popular. There are several different techniques used to keep their followers and Facebook friends engaged.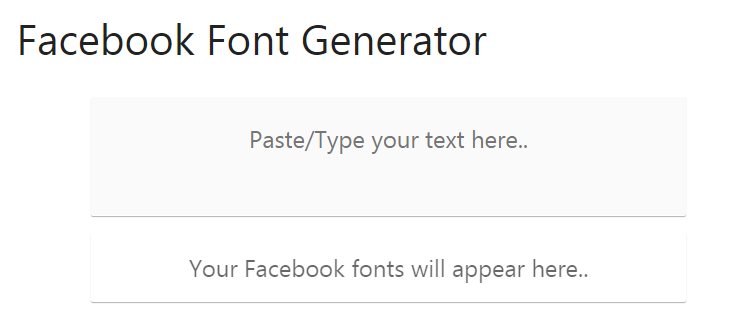 They do this to increase their reach, the number of likes and the number of followers. The way you add captions, how interactive you make them, not only with your creative content, but also with the style or font that you use, will make a lasting impression.
The Facebook Font changer creates unique, fun, cool, and eye-catching fonts and texts.
The cool fonts created using the Facebook fonts generator not only attract the attention of your followers, but also help you increase the number of people who like your page, your posts, and wish to connect with you, while also increasing your influence. Make Fancy Text Generator.
Fonts such as these can help you make your Facebook presence more unique and appealing, thereby changing the way people perceive you.
How To Change Text/Fonts on Facebook?
In the Facebook Fancy Font, you can enter the text you want to convert into a cool, fun font. Once you type the text, you will see several font options. You can copy the text from here in any font you want and paste it wherever you want. Make fancy instagram post by using Fancy Font Generator for Instagram.
Although the Facebook Font Generator was created as a solution to Facebook's need for unique fonts and captions, it can be used for any social media platform or several websites as long as they support Unicode.
Stylish Facebook Fonts Generator
The Facebook fonts generator uses Unicode symbols to generate numerous different characters, and not only that, the fonts available in the Facebook fonts changer are compatible with Facebook, not with any other social media platform or website. Now you can generate more thicc font style with our Extra Thicc Text Generator.
Since many Unicode symbols resemble the Latin alphabet or English text, we can easily use these symbols to create a pseudo-alphabet.
Often times you see a font online that looks different and fun like the comic sans font, and you want to use it in your Facebook captions or in your chat or messenger messages, but every time you do that, the font fails to appear as it was intended because the characters are not separated.
What a font actually is is a collection of graphics. Since the Facebook Font generators use separate characters, users can successfully copy and paste the text wherever they want.
As opposed to the actual font, you are actually pasting the different symbols that make up a font. Not only does the font created using Fb font changer make your captions look better, but it also adds a unique touch to your Facebook chat messages and posts. Makie gaming profile name with Discord Font Generator.
Some of the fonts available may not appear on your Facebook Messenger or posts due to your device not supporting these fonts and/or symbols.
They are more expressive and help you add a unique touch to your messages than the same old generic emojis that everyone uses on Facebook.
As you type a text, the fonts and symbols that appear in the Facebook letters are not the only options; you can click the "load more fonts" link to see a greater selection of fancy fonts for facebook and symbols that you can use through the Facebook font generator.
These fonts can be pasted into your Facebook bio, comment section, posts, and messages. Not only that, but you can use them on other social media platforms such as Instagram, Twitter, Tumblr, etc.
To wrap it all up:
Type the text you want to convert in Facebook font
You will see fonts below
Copy any text you want to use
Paste it where you want and enjoy it
Who can use this tool:
The Facebook font changer tool enables people to create eye-catching content, while Instagram fonts are a great way to make captions more fun and engaging for your followers.
Facebook fonts changer enhances a Facebook user's social media presence by adding a personalized touch to their posts. Users are able to use the stylish and cool text fonts and symbols to add a unique touch to their posts.
Using these fancy text for facebook letters fonts and unique symbols, social media personalities and businesses alike can create their own signature style, which would add to their fame and impact even more.
In addition to this, Facebook users can also use the tool to add color to their everyday Facebook posts and messenger messages, making them appear different and unique.
Also, it will encourage them to create unique content like never before by using the Facebook font changer and generator. The Facebook text generator is an easy-to-use tool that is fun to use, providing the user with numerous options based on their taste and preferences.