Your Discord font will appear here..
---
Do you want to create your own discord font? Do you need a discord name font for your business or personal use? Look no further because we have the perfect generator for all of your needs! With this Discord Font Generator, it is easy to design any type of text that you need in order to get what you want. You can even upload an image and turn it into a custom discord name font. So what are you waiting for? Create a beautiful new logo today with our Discord Font Generator!
What is Discord Font Generator?
A website known as Discord is more of a social media platform for gamers. On this platform, gamers can come together, chat with each other, share their memories about their favorite games, reminisce, and build a community and network with their fellow gamers.
Rather than targeting a specific age group, the website aims to appeal to anyone interested in gaming, whether they are at an amateur level or otherwise. It is a social media platform that brings together individuals with a common interest.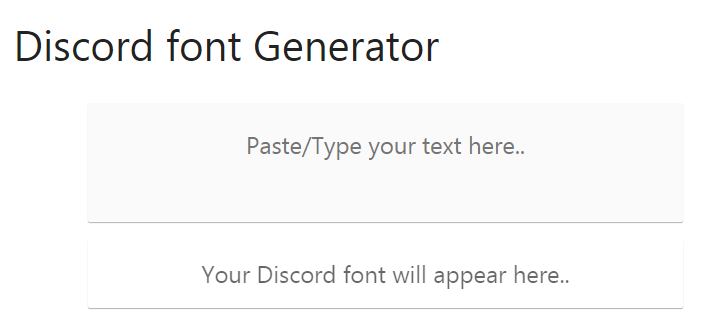 The discord app is available for download via their website, so you can use it on your desktop as well as your phone. Many college and university students use Discord as a means of communication.
How Does Discord Font Generator Work?
Designing your own discord font with our discord font generator! it's easy to design custom fonts or edit existing ones with just one click. All you need to do is choose the character that you want to use for your name.
You can use anything from a simple letter, like 'A' or 'H', to even an emoji, like the heart or smiling face. Next, click on "Generate Discord Font" and voila! Your custom discord font will be created in just seconds! Want to create more thicc text try our new Extra Thicc Text Generator.
you can finally use the font that you want for your username in Discord! With the rollout of custom fonts, you now have a chance to create your own username with just the font of your choice. And with the new discord name generator, it couldn't be any easier. It's time to design your custom discord name and never worry about someone else copying it again!
How Discord Fonts Copy & Paste Work
Today I'm going to teach you how to design your own Discord name! It's very simple, all you have to do is type in the font that you want for your new username and then copy/paste it into discord.
This doesn't just apply if you're creating a brand-new account either, even if someone has already copied your username – you can also change the font!
And best of all, it's 100% free to use. There is absolutely nothing for sale here. You may also like Runic Translator.Just a little something I've created that hopefully helps out some people with their discord names!
This would be a great way to spice up their discord chats and take the monotony out. However, it is important to note that all the fonts shown on the discord app are not actually separate fonts.
There are a variety of unicode symbols and characters that look similar to a latin alphabet. Unicode has tens of thousands of symbols and characters, as a result of which it can cater to a wide range of languages. Make awesome fb post by Facebook Font Generator.
Unicode also allows us to copy and paste the different, fun and unique font styles wherever we want, even on platforms other than the discord app, provided the platform or website supports and/or is compatible with Unicode.
Who can use this tool?
With the discord text generator, you can easily create fonts such as double struck, medieval, gothic, old English, cursive, and many more. The variety of font styles allow you to easily change fonts on discord according to your own preferences.
Although the Discord app does not enable users to write in small text, the discord text font facilitates this. With the Discord fonts generator, users can also write in small text or superscript, which makes it easier and more enjoyable for people to interact in a more positive way.
In addition, the discord font changer is an excellent way to pick fonts that match your personal style and use them in your chats. You can make your texts appear more expressive and engaging when you use these interesting fonts.
Try our New Font Generator: Cute Fonts Generator
While using the Discord text generator, one may also come across font options that look different from the traditional Latin alphabet. This is simply because the fonts were created using a set of simple Unicode.
Additionally to changing the font of your discord username, you can also use the discord text generator to add a personal touch to both your username and your texts.
A discord font generator is a great tool for those who wish to use the discord communication app to communicate more effectively with their fellow gamers from the gamer community. Users of the discord name font can pick out a font style according to their liking. Try out Cursive Font Generator.
How to Change Discord Username's Font
Follow these steps to change discord username's font.
Open the discord application and then click on the user settings you will see at the very left-hand bottom.
The Edit option is located right next to the username in the my account section.
When you click Edit, the new box appears with your username and password.
Use Discord font generator to make fancy discord username, type your username where is says paste/types your text here.
Paste the username into the text field. Finally, enter your current discord password and click done.
Discord Name List
This list of good discord names is broken down into several categories to make your selection easier:
Funny Names
herpes_free_since_03
kiss-my-axe
skedaddle
hanging_with_my_gnomies
manhole
king_0f_dairy_queen
shaquille_oatmeal
big_mamas_house
crapulence
Cool Discord Names
MemeRuler
ProTrooper SharkHunter
LegendLife101
RumGuru
FullScopeJedi
WinningGlory
Conquestor
Weird Discord Names
mugwump
dickdoodle
philtrum
tweezers
bulbous
samovar
nambypamby
bitchlasagna
Clever Discord Names:
iwasamistake
soldmomforRP
DustyBawls
ZeroDeaths
BetterThanYou
DoNotLeaveMe
DateMe
Most Popular Discord names
betches
wearelivingart
wolfcubwolfcub
gaybestfriend
velvetcanyon
poemsporn
girlwithnojob
havelesstravelmore
diet_prada
yourgirlmax
drunkbetch
collectiveworld
biancachandon
americanfailure
Discord Server Names
Ice agers
FortThisNite
Gamegod Lounge
Fire Spewers
An Army
Speed definers
The ReDefiners
Cool Zone
Ape timers
Smarty pants
Rebels
Pro league champs
The Clash Clan
The Room
Frooty loops
CStrikers
Grim reaper tribe
Hulk Society
GlueScreen gang
Not Bob but the builders
Discord Server Thugs
Game changers
Minecraft legends
Buzz Astro Men
Communitea
FAQs
– What is a discord font generator?
A discord font generator is an online tool that allows you to create your own discord name by choosing the font of your choice.
– When can you use the new custom fonts in Discord?
You can use the new custom fonts in discord starting November 28th!
– How do I change my discord username's font?
To change the font on your discord username, just type the font name that you want to use and copy/paste it into an empty text editor where is says paste/types your text here. Now just replace fancy discord username with your old username as you usually would and voila! You have a custom Discord name now.
– Is this just to create a brand new account with a better font for your username, or does it work if someone has already copied your username too and changed the name of course to what you want it as well?
Yes is work if someone has already copied username too and changed the name.
– Can't think of a good discord name ? Try using one from our list!
Here are some examples of discord names:
herpes_free_since_03
kiss-my-axe
MemeRuler
ProTrooper SharkHunter
mugwump
dickdoodle
iwasamistake
soldmomforRP
BetterThanYou
DoNotLeaveMe
DateMe
betches
wearelivingart
wolfcubwolfcub
or
if you want more font ideas check our list above.