---
Font Changer Online is a tool for creating eye-catching unicode fonts online. Font Changer Online Text Generator Tools create awesome and super stylish text that you can use as a Twitter, Whatsapp status, Instagram bio, Captions, and cool names in online games. With this Font Changer Website, you can easily and quickly create beautiful fancy fonts.
Online Font Changer
This translator enables you to alter your font using Unicode symbols, as you have probably observed by this point. You can use it to alter the typeface in your Twitter bio, Roblox, Tweets, and even Facebook posts to make them stand out more. You can also use it to change the font on your Instagram profile.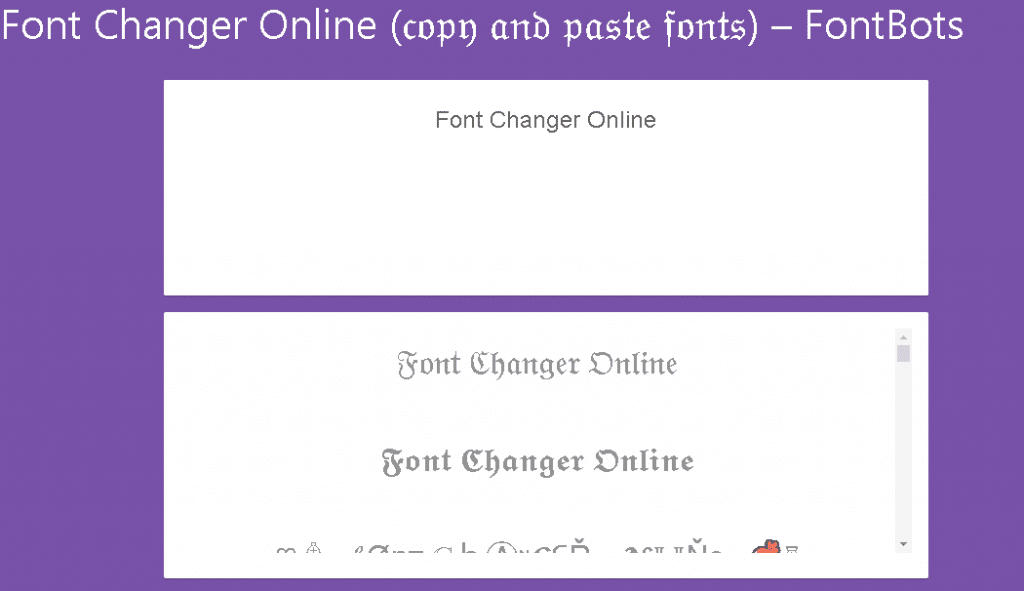 People use a tonne of various search phrases to try and discover resources that may help them generate weird Unicode symbols to represent their text, thus this is a mirror of my Fancy Text Generator translator. So perhaps this will address a good portion of those who were unable to find my other translator. You can use any of them you like because I'll keep them both updated 🙂
If you're not familiar with Unicode, it's a cool, global council of elders who make decisions about the future of odd symbols, script alphabets, emojis, and pretty about any other text character that isn't on your keyboard. Everyone, including Apple, Google, and many other major corporations, pays attention to these wizards because they are aware of what is best for all of us.
Note: This font changer also works in games such as PUBG, Free Fire, and Roblox! It's useful for adding font changer to your username/nickname or in chat messages:)
If you're into emojis, you should check out my "Gothic Text Generator" which I think is really cool. Unicode is great, and although it may appear that you are changing fonts, you are actually altering symbols that are part of the Unicode standard.
How Does It Convert My Texts?
This Font Changer Generator application converts regular text into Unicode symbols. Unicode is a technical standard that assigns a unique number to each character or font, regardless of device, application, or language. Also check our new Instagram Font Generator.
Unicode symbols and letters are used by all modern software and operating systems, including search engines, web browsers, laptop computers, iPhones, and Android smartphones. As a result, you can copy-paste these font changer into any social media platform, including Facebook, Instagram, Twitter, and Whatsapp.
You May Also Like: Scary Text Generator
Is it okay if I share it on Facebook and Instagram?
You can share it on a variety of social media platforms. These font changer are commonly used on social media profiles and as usernames in games such as PUBG and Free Fire. You can use these fashionable fonts in Facebook posts, comments, Instagram stories, bios, captions, and comments, as well as on Twitter and other social media platforms to attract more attention and followers. Try out our new Fancy Text Generator for Facebook.
Can I make cool fonts for Twitter?
Yes, you can use font changer for Twitter. The font changer were created using Unicode, which is widely supported by Twitter. Simply type your text, copy your desired font changer, and paste it into your tweets.