---
Glitch text generators are online tools that create normal text into distorted or corrupted text. You can use this type of text in social media such as (Facebook, insta, Twitter, and Snapchat) make memes, create posts and there are many more possibilities where you can use it.
Glitch Text Generator
Glitch text is also known as zalgo text because it creates corrupted or weird text. You can use this text to create memes, like weird memes, messed memes, and spooky memes, and also used to create creepy gifs. Actually once dave kale share a meme that contains some Zalgo text in his tweet which look soo weird or creepy. You should try Tiny Text Generator.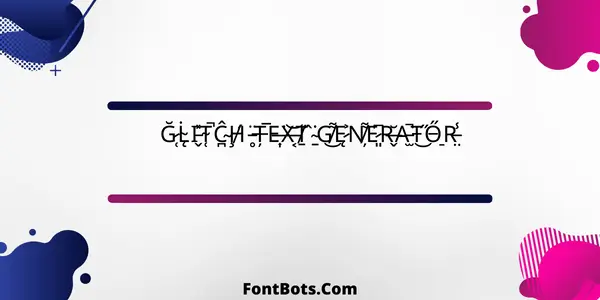 It is so popular that now people use it for meme captions, insta bio, or facebook posts or they create creepy comments to grab attention. Furthermore, many people use glitch font as a username in apps like twitch or discord. Cursed Text is similar to glitchy text.
Glitch Text Generator Example
Ḡ̵̢̱̹̠̹̠̖̣͙̹̿l̴͔̼̹̳͍̼͛̇̍i̸̤͚̯̓͘͝t̴͈̤̰̯̪͊ċ̵͕̘̦̰̖̗͙̠͓̩h̷̢̯̲̗̪̫̬͚͔͌̄͑̑̉͒̆̓̉͝ ̶̜̇T̶̮͙͇̮̦͉̃͒͗́̅͂͌͋̅̚e̵̫͇͉͎͈̝̦̰͈͗̌ͅx̵͖̥͔̬̜̑̐̎̈́̅̂t̷̜̋͜ ̸̳̱͍́̆̇̕͜Ġ̷̬̫̜̏̒̋́͝ȩ̸̢̛̳͕͍̺̲̗̓͐͂͌͂͊͋͜n̶͉̞͇̖͚͍̠͊͆̒͂̽̓̿̄͛͛e̴̟͕̞̥̘̊̄̇ŗ̴̔͋͒̾͊̉̊a̷̛̤̯͈̗̣̯̥̖͆̌͊͋̕͜͝t̵̮̼̯̙̠͍̥̋̋̆͐͊͋̊̓̕̚o̷̧̜̦͍̭̝̱͇͑̿r̸̛̠̆̅̔̆͂͌͂͝
G̸̬̀̅ͅl̶̝̑͗̐í̸͖͗̎̋ṭ̷̺̩̺̿͑͠c̴͇̲̣͊̈́̔͋h̷͕͇̬͆ ̵̛̺̱̝̄̈͝T̵̛̗͍̗̱̏ē̷̘x̸̘͈͖͇̑͛͆t̸̘̠͇̂̀́̈ ̷̪͚͛͗̒̈́Ẻ̵̦̽́f̵̟̬̱̄͐f̶̢̖̱̞̈́̈́̕e̶͈̽̒͆c̴̮̪̀̏t̵͚̝̾̈́
G̷̱̙̠̮̓l̴͕̈́̓i̴̹̍t̴̪̃͝c̸̢͎̼̱̀͗h̷̡̛̘ͅ ̶̦̉̃F̵̖̬͙̙́̉͝o̶̻̭̖̎̓̌̚ͅn̸̨̰͙̬̚ẗ̸̠̞̟͔̊̄ ̷̼͂̈́͆G̷͈̝̑̕e̷̝̗̊͛̂̃ṇ̵̭̹̫̍è̷͎̤̥̺͝r̵̩̾̐̀͋a̷̯͂̋̌t̵̖͚̮̙̅̀ô̶̬̪̌͂̊ṛ̷̍͊͐̕
G̸̢̬͇̫̼̯̮̪͉̜̣̥̞͇̮̘̲̱̝̑͂̈́͆̇l̴̡̦͕͖͚̝̫̈͒͘ỉ̵̮̳̠̎̒t̵͎̀̐͒̈c̶̡͇̭̹͚̰͖̫͎͓͉̜͍̼͔̰̲̋̄͊͊̈͜h̵͎͍̦̊̓͌̈́́̆̽͑͒̉̉̌́̀̓̅̊̿̕͠ ̷̨̛̤̼̘͖̮̫̿͜ͅȨ̵̯̬͖̳͕̊͋͛͛͑̔̈́̾͐̀͛̇́͆̕͜f̸̛͈̘̟̜̦̱̮̹̹̼̜̝͍̺̆͗̓͜f̶̨̢̰̳̪̝̀͋̈͋̐̽̇̉͐̈́͛̔̂͝ȩ̸̢̯̟̖͕̲̠͚̰͙̣̹̤̄͊̀̈́͗͋͗̔̇͆̚͜͠c̶̢̯̝̬͇͙͕̤̦͉̣̍͋̅̈́̾͒͐̏̇̀̌͑̒̏̅̇̔͠͠t̶̨̧̛̞͈̲͈͚͎̯͕͚͓̊̃̎̈́̌̉͆̿̉̎̒̓͐͜͝͝
Is a Glitch Text Generator Different Than a Glitch Text Effect?
A Glitch text effect is another name for a glitch font generator. The glitch effect is meant to cover normal text in odd and weird fonts that can provide an eerie or uneasy impression to viewers or readers. If you are looking for a glitch effect on the text you can achieve your goal with our latest glitch text generator. Furthermore, check Fancy Text Generator for Facebook.
How to use Glitch Text Generator?
Type your desired text into the textbox you want to convert.
A glitch text generator can convert your text into a glitch text effect.
Copy and paste anywhere you want.
Enjoy
You May Also Like: Russian Font Generator