Your Stylish text will appear here..
---
What can Stylish Text Generator do for you:
With the fast pace of everyday life, it's very easy to become bored of things too quickly. We have access to so many ideas, opportunities, and technological advancements, which result in us being bored rather easily.
While writing texts to send to someone or posting on social media, we find the text styles, fonts, and sizes to be monotonous and generic. We're always looking for something that will make our content look fresh and unique. The quality of the content itself is not everything.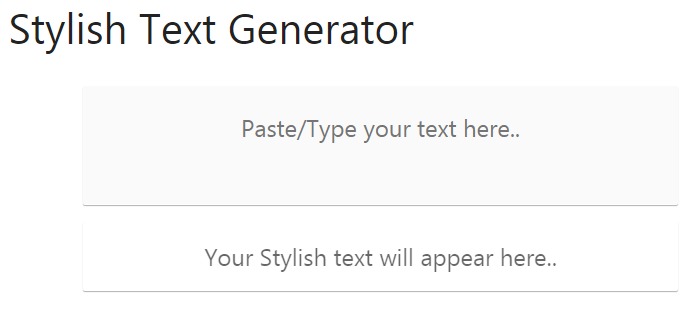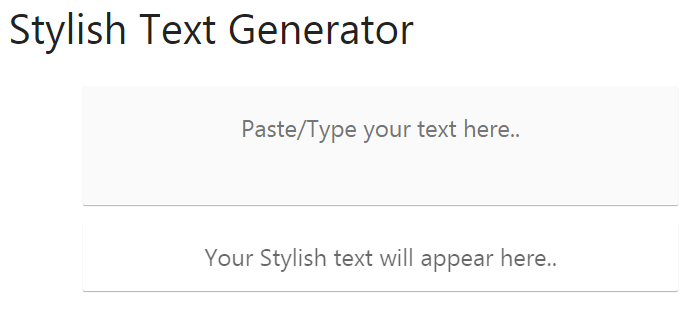 It is important to note that the font we choose, the text style we aim to use makes a big impression and leaves a lasting impression too. For this purpose, using stylish text is definitely the way to go. The thing about stylish text is that it can appear fun, quirky and also fresh.
It is for this reason that the stylish text generator is such a great tool for creating a wide range of stylish texts quickly and easily. However, it is important to note that what we are actually creating is not a font, but a set of symbols that look like the actual alphabet. You may Also Like Tumblr Font Generator.
Had it been an actual font, it would not have been compatible with a number of forums and/or social media platforms, browsing websites, etc and we would not have been able to copy and paste the stylish text elsewhere.
How does Stylish Font Generator work?
The first question that comes to mind is how to use the stylish text decorator? All you have to do is type in a text and a number of style font options will appear underneath it in seconds.
It is beneficial for those who wish to write using a stylish font in order to make their posts or content stand out as you can simply copy and paste the newly made stylish text wherever you wish, as long as the website or social media platform supports Unicode.
Before continuing, it is important that you understand what Unicode is and how it is different from copying and pasting any font from anywhere on the internet or otherwise. Sometimes, you may wish to use a font you see online elsewhere as well. Try Special Text Generator
Due to this, you decide to copy that font and paste it on a social media platform or website, but to your disappointment, the font does not appear correctly. That is because the place where you copied the font is not based on Unicode. Unicode is what makes copying and pasting so convenient and easy so ASCII fonts look just as they do on many social media platforms and places.
Another unique feature of Unicode is that, while it may seem that the big text generator simply alters the font, this is not what is actually happening.
Instead, Unicode script symbols are used which closely resemble the Latin alphabet. While ASCII has only 256 symbols, Unicode has tens of thousands of symbols, enabling us to have access to several different font styles, text, etc.
You May Also Like: Mirror Text Generator
To wrap it all up:
Type the text you want to convert in Stylish Text
You will see fonts below
Copy any font you want to use
Paste it where you want and enjoy it
Who can use it and where?
Using the stylish text generator can add a unique touch to your social media posts such as those on Twitter, Instagram, Facebook, etc. You can choose from a sea of stylish options to make your posts stand out and gain extra attention from your followers. You May Also Like Superscript Text Generator [ᶜᵒᵖʸ and ᴾᵃˢᵗᵉ].
Social media accounts and/or influencers can add a personal touch to their posts and content using the Facebook Text Generator Online. Not only will this make your content more eye-catching, but it will also appear more personal, which may not be possible by using a standard, generic font.
By using this stylish text generator, you can make your content fun yet unique and valuable at the same time. Besides, you can use it in software such as Adobe Photoshop or Gimp if you want different kinds of stylish writing.
For example, if you wish to use a particular font in Photoshop, you have to download that font. With the lingojam text generator, you don't have to download anything at all. Instead, you can just copy this font and paste it into Photoshop. Try small text with Small Text Generator.
Using the style text generator online is not only efficient but also fun and time-efficient. The text generated by this online tool can be used in web designing as well as by designers to add a unique signature touch to their work.
In addition, there are several people out there who desire a tattoo with text written using a stylish script to make it more eye-catching for everyone who sees it. For all of these purposes, the stylish text generator is very useful.
It features a number of text styles, including cursive, flipped, double-struck, old English, and kawaii. The stylized text creator is an excellent tool for creating texts that are engaging, expressive, and that have a personal touch to them.