Your Cursive font will appear here..
---
What can Cursive Font Generator do for you:
Cursive writing has been used for a very long time. There is a wide range of cursive scripts, some of which date back to the fifth century.
In these scripts, you will find the Spencerian method script, created by Platt Rogers Spencer. These are the same letters that are written on the Coca Cola logo. Discord Font Generator
In addition to writing scripts, there are also calligraphic styles, such as D'Nealian script and Cursive Generator. Calligraphy is used for a variety of written messages, including wedding invitations, greeting cards and school diplomas.
Charlemagne ordered an English monk to design a standard set for cursive writing in the eighth century that included word separation, lowercase cursive letters, and punctuation. Around the time of the Norman conquest in the 11th century, formal documents were written in cursive rather than roman script.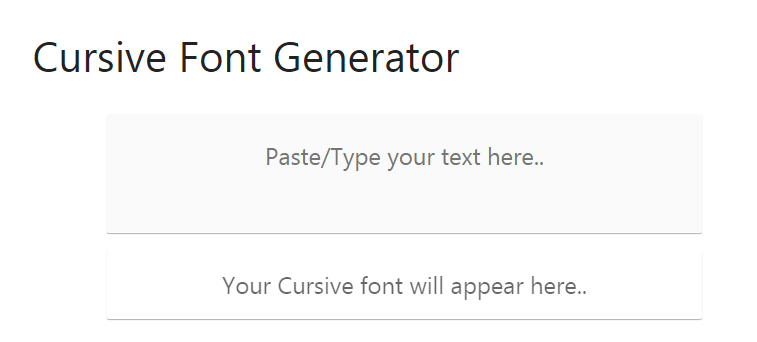 Despite the use of electronic gadgets and computers, handwritten notes and documents are beginning to be replaced with typed ones. People still desire to use print to cursive fonts and scripts however, since this can be used for writing whether it is handwritten or typed.
There is a very good reason for this. Cursive fonts help personalize words and letters by making them seem more formal. For example, when attaching a gift note, many people choose a cursive font since it makes the message look more personal and beautiful. Make Cute font with Cute Font Generator.
Consequently, there are many cursive converters available, both in software and online. However, not all cursive writing online is available everywhere. For example, cursive fonts are not available on social media platforms.
Each user must use the same generic typeface style. Cursive script adds a more formal, old fashioned vibe to your work, allowing it to stand out. A cursive font generator is the best tool to use for this.
How does Cursive Font Text Generator work?
You can create a cursive version of any text rather than just a standard text. It's easy to use. All you have to do is type in the text and a cursive version will appear underneath it or right next to it.
Using this cursive generator application is the perfect solution for those wish to write using a cursive font since all you have to do is copy and paste the newly created cursive text to any website or social media platform that supports Unicode. Cool Font Generator is use to generate cool stylish fonts.
If you see a font online, sometimes you want to use it elsewhere as well. However, Unicode makes the cursive text generator different from copying and pasting cursive letters from anywhere else on the internet or otherwise.
If you try pasting that font on a platform, but to your dismay, the font never gets there correctly because the platform is not Unicode-based. Copying and pasting on top of Unicode is why this font appears just as it is on several platforms.
Unicode has tens of thousands of symbols that allow us to access several different font styles, etc. One thing that may appear different about cursive text generation is how it creates script symbols rather than changing the font.
Who can use it and where?
Users can make use of the cursive text generator for various purposes. It can be used to add a unique touch to social media posts on Twitter, Facebook, Tumblr, etc. Cursive text can make your posts more appealing to your followers, friends and fans.
Social media personalities and influencers can use cursive text to add a personal touch to their content, making it more attractive, as well as more expressive, something that may not be possible using a standard, generic font that gets boring and monotonous after a while.
With this tool, you can use it to create cursive text that looks vintage-style, making your content funny yet unique. Other than that, you can use this cursive text generator to make cursive text for Adobe Photoshop and Gimp. Calligraphy Font Generator use to make calligraphy fonts.
A font usually has to be downloaded to be used with a particular piece of software, like Photoshop.
You do not have to download anything at all to use the cursive text generator. Instead, you can copy this font and paste it right into Photoshop. The cursive text generator not only allows you to minimize the amount of effort required, it also makes the experience more fun and time-efficient.
It is also possible to use the fonts generated by this cursive font generator in web design, while designers can use them to add a unique, personal touch to their work. Moreover, some people wish to get tattoos that feature cursive script letters.
With Emily in cursive letters, you can enhance the beauty of your social media presence just by adding the beauty of cursive to it. Cursive texts make text look much more visually appealing than standard fonts, which would blend into the background in any way.