Your Italic Text will appear here..
---
What can Italic Text Generator do for you:
An italic font is a type of calligraphy font. Italics were first developed in Italy as a replacement for the traditionally written font for documents called chancery hand.
When Aldus Manutius first used italics in his printing press in the 1500s, he intended not to emphasize the text with italics but to print small poetry books. In fact, he envisioned using italics to print smaller copies of poetry books.
Small Text Generator
The italic style text became extremely popular and many people began using it for various purposes. Some even made inaccurate copies that looked similar nevertheless. The second wave of italics used by people throughout Italy was the chancery italics.
Italic Font Generator Copy & Paste
In the 16th century, italic alphabets were used to emphasize text. This type of text, if handwritten, would have been underlined. As early as the 17th century, italic text for emphasis became the norm.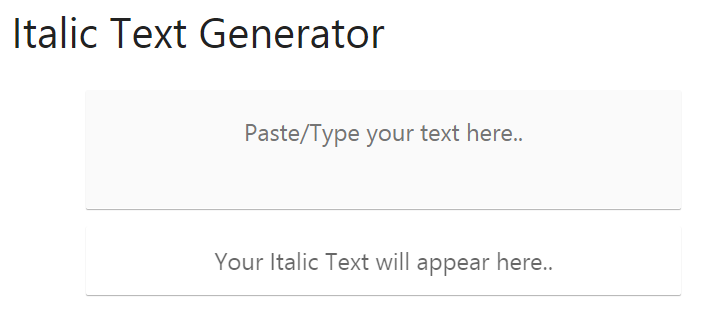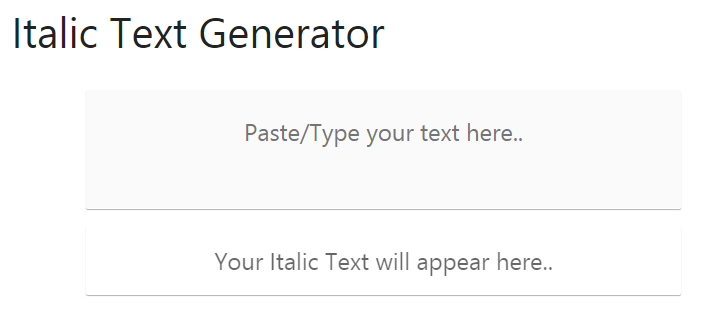 As a result of substantial developments over the centuries, what is widely known as italic is a different font from what was first created. However, it is nevertheless widely used to emphasize, signal important points, and also cite someone.
Many people use this font style for a variety of purposes. It is eye-catching and visually appealing. Furthermore, It offers a very formal, old-school style when typing the text.  It is the perfect font generator for people who wish to type in italics.Try Discord font Generator.
How does it work?
This italic font and text generator is a fun and very easy-to-use tool where you type in a text, and it will automatically be converted into an italicized version under or next to it if the site supports and is compatible with Unicode. Make your normal english to Old English Translator.
What makes the generator different from copying and pasting how to do italics text from anywhere on the internet or otherwise is Unicode. When you see a font online you may wish to use it anywhere else as well.
As a result, whenever you paste that font on a social media platform, it never gets pasted correctly. This happens because the place where you copied that font from isn't based on Unicode, which is what makes copying and pasting so convenient.
It might seem that the italic text generator simply changes the font, however in reality Unicode script symbols are actually generated which look just like the Latin alphabet itself. Unicode has thousands of symbols, which gives us the option of several different fonts, etc.
To wrap it all up:
Type the text you want to convert in Italic
You will see fonts below
Copy any font you want to use
Paste it where you want and enjoy it
Who can use it and where?
This italic font generator can be used by different types of people to add a unique touch to social media posts, such as those on Twitter, Instagram, Facebook, and Tumblr. Italicized words can help your posts stand out and gain additional attention from your followers and friends. Try our Instagram Font Generator to make stunning post.
Bold italic text makes content appear more eye-catching, but it will also make it appear more personal, more expressive, something that may not be possible with a standard font that gets boring and monotonous after a while.
This is great if you want to add a vintage yet formal vibe to your content. You can also use it to create party invitations, captions, poetry, and other content requiring italics. You can use it in software like Adobe Photoshop or Gimp.
Usually, if you wish to use a particular font in Photoshop, you have to download that particular font. With the text generator, you don't have to download anything; instead, you just copy the font and paste it into Photoshop. Try out Gothic Text Generator.
The italic text generator not only reduces effort, but also makes the experience fun and time-efficient. The bold and italic letters generated by this tool can also be used in web design as well as by designers to add a unique touch to their work.
Use Mirror Text Generator to mirrorized your text.
Additionally, several people wish to get tattoos with text written in an italic font. For all these reasons, the italics text generator is a wonderful tool that cannot be ignored, whether it is your social media or your tattoo art.
The italicized text enhances the beauty of a text, making it appear more expressive, heartfelt, and profound.
Italics text generator allows users to add an elegant, romantic touch to their text without putting in a lot of effort. It is ideal for those who do not have much time at their disposal, yet still want their text to stand out.